Align Your Dreams with Your Power: How to Succeed with a Disability (DVD)
by Nancy Shugart Take a fun, yet very educational, journey with Nancy Shugart as she defines the three powers that every successful person with a disability has learned to master. She has been down that road that many are just beginning to travel. Hear her personal story of struggle and triumph and the invaluable lessons that she has learned about succeeding with a disability. More importantly, learn how you, too, can align your dreams with your power and achieve your life's dreams! 24 minutes. Open captioned with audio descriptor.
Align Your Dreams with Your Power will help you:
Harness your self-determination…giving you the power to be a strong self-advocate
Identify the three powers essential for succeeding with a disability…giving you the key to achieve more than most believe to be possible
Ignite your passion…strengthening you to blast through the many barriers that attempt to discourage you
Adopt a positive perception of the challenges you face…lifting a tremendous weight off your shoulders
Experience the freedom of knowing you're not alone…assuring you that others with a disability have succeeded and you can too
This is great, but there's still more!
Give your best in all that you do…ensuring your success in school and work
Recognize that quitting can never be an option…giving you the courage to complete what you have begun
Become a powerful presence in every area of your life…allowing you to be a powerful advocate and a portrait of what is possible for people with disabilities
Succeed against the odds…clearing a path for others to follow
And much, much more!
Get ready to pole vault over any barrier that tries to stand in your way. Align Your Dreams with Your Power is guaranteed to help you find the courage and motivation to achieve far more in school, work, and in life!
"Wow! Align Your Dreams with Your Power is an awesome presentation! Nancy's so right: it's all about one's attitude, not one's diagnosis. She's been there, done that, and her film can help young people with disabilities find their power and live the lives of their dreams. Parents and teachers also need to learn from Align Your Dreams with Your power. Imagine how different a young person's life can be when his/her parents and teachers see the power within that young person. Align Your Dreams with Your Power should also be required in colleges and universities to train emerging teachers. The world will be a better place for all when we believe in the potential of students who happen to have conditions we call disabilities!"

-Kathie Snow, (www.DisabilityIsNatural.com), and mother to 22-year-old Benjamin, a college student with lots of 'power within' who happens to have a disability.
---
"As a blind person myself, living and working in the real world, I am always excited about projects that feature people with disabilities dealing with both the challenges and the opportunities. All of us are as big as our dreams, regardless of our abilities or disabilities. Align Your Dreams with Your Power has a powerful message which both youth and parents will benefit from hearing."

-Jim Stovall, President, Narrative Television Network (www.NarrativeTV.com)
---
What You Get with This DVD
A 24-minute program featuring Nancy Shugart
Open captioning for people who are deaf or hard of hearing
Audio description for people who are blind or visually impaired (describes the five magic effects Nancy uses to reinforce certain points
An audio navigation menu making it possible for people who are blind or visually impaired to navigate the menu
A powerful program divided into three chapters, each challenging you to draw upon the enormous power you possess
I. Chapter 1: Live Your Dreams – You will learn…
A. about an accomplished author who, diagnosed with autism as a child, was not expected to amount to much B. About a successful businessman who, born profoundly deaf, also achieved more than most believed to be possible for him C. About a businesswoman who conducts multi-million dollar deals on a regular basis though she lost her sight at age eight D. And much, much more!
II. Chapter 2: Nancy's Journey – You will learn…
A. what Nancy's dream was for her life and why she was being told that she would never be able to achieve it B. Why Nancy came very close to dropping out of high school and giving up on her dreams C. The powerful lesson that Nancy learned, which helped her get back on track with her dreams and prevented her from becoming a dropout statistic D. And much, much more!
III. Chapter 3: Your Powers – You will learn…
A. about the power that transformed a man, who cannot use his arms or legs and cannot speak into a brilliant theoretical physicist B. About the power that takes a woman in a wheelchair places she otherwise could never go C. About the power that kept Nancy moving forward even though she ran into roadblock after roadblock D. And much, much more!
Learn about the triumph achieved once Nancy aligned her dreams with her power!
Learn about an adorable service animal who came into Nancy's life to help her adapt!
Learn what Nancy has learned after traveling the road that many of you are about to travel!
All of this and so much more in a very entertaining and fun program!
---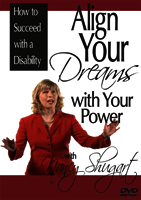 Available through Program Development Associates
"This DVD offers encouraging examples, engaging descriptions, and dynamic advice for youth with disabilities."

-Pat Pound, Involved with disability policy and services at the local, state and national levels over the last 30 years.
---
"Align Your Dreams with Your Power is very inspiring and fun to watch. It is well done and has a valuable message for youth who have a disability. I highly recommend it! Nancy is also very charming and my wife said she is very pretty."

-Richard Turner, President of Showdown Creations, (www.RichardTurner52.com), card mechanic, cheated Brad Pit in the 2009 movie Tree of Life, presently co-starring in a new stage show called Hoodwinked.
---
Who Should Watch Align Your Dreams with Your Power?
This program was primarily created for youth who have a disability. However, parents, teachers, and counselors should also view this DVD to learn what is truly possible for a person who has a disability.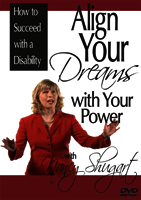 Available through Program Development Associates
---
"Align Your Dreams with Your Power is refreshing and powerful. My high school students really identified with the struggles Nancy encountered during her youth. I love the way she drove home the importance of never giving up when barriers are encountered. This DVD reinforces the critical keys that students must master in order to succeed in both school and employment. Align Your Dreams with Your Power raises the bar of expectations! Students, parents, and educators will all benefit from watching it."

-Leslie Vlasman, Secondary Special Education Teacher
---
"I met Nancy Shugart a few years ago walking through the dealer's room at a big magician's convention. I have watched how Nancy amazingly not only learned how to do her magic tricks but how to use them to help illustrate various important points in her motivational program. Then I received in the mail a copy of her new DVD, Align Your Dreams with Your Power. It is truly a fascinating thing to watch. What an impact she and her DVD will make on the kids in school who have a disability. It will become a tremendous tool to make them want to succeed in all of life. I urge everyone in the educational field to get a copy and use it with your students, those with a disability as well as those without. I promise you it will be an inspiration to them all."

-Walter "Zaney" Blaney, (www.WalterBlaney.com) known throughout the world for his original magic inventions. His illusions have been used by Magic's finest, David Copperfield, Lance Burton and Siegfried & Roy.
---
Education & Employment: How to Succeed in Both
I never would have completed high school, earned two college degrees, and become successfully employed had I not learned how to align my dreams with the three powers I describe in this DVD. We cannot take for granted that young people will learn how to align their dreams with their power without any intervention from us. During my youth, I wasted several years, nearly dropped out of high school, came very close to giving up on my dreams, but I discovered how to align my dreams with my power and then my whole world began to change. The bottom line is, every young person holds more power inside them than they ever begin to use. It is time we teach them how to align their dreams with their power.
How This Information Changed My Life
Once I learned how to align my dreams with my power, I
Completed high school
Became the first person in my family to go to college
Earned a bachelor's degree
Became successfully employed as a teacher in the public schools (something the experts had said would be impossible because of my disability)
Earned a master's degree
Enjoyed a fabulous 21-year career as a teacher in the Austin Independent School District in Austin, Texas
Founded my own company, Prove Them Wrong®, LLC, in 2002
Own and operate several successful websites as a part of my company
Received an appointment from two Texas Governors to serve on the Texas Governor's Committee on People with Disabilities
Honored with the "Five Who Care Community Service Award" from KVUE-TV, the ABC affiliate TV station in Austin, Texas
And so much more…
---
"Nancy, Align Your Dreams with Your Power is wonderful, inspirational, and the presentation is exceptionally well done. Thank you for having the passion to help everyone, and especially people with disabilities, to embrace their passion to make their lives better, not bitter. I really enjoyed your work. Wow, it is great."

-Marion S. Wikholm, (www.BitterOrBetter.com) author, sit-up comedienne, inspirational humorist, and psychotherapist.
---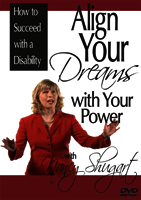 Available through Program Development Associates